Overview
RE-SAT provides advanced data analytics to help energy planners and investors to locate renewable energy generators in order to optimise the amount of renewable energy generated, minimise their environmental impact and maximise the return on investment.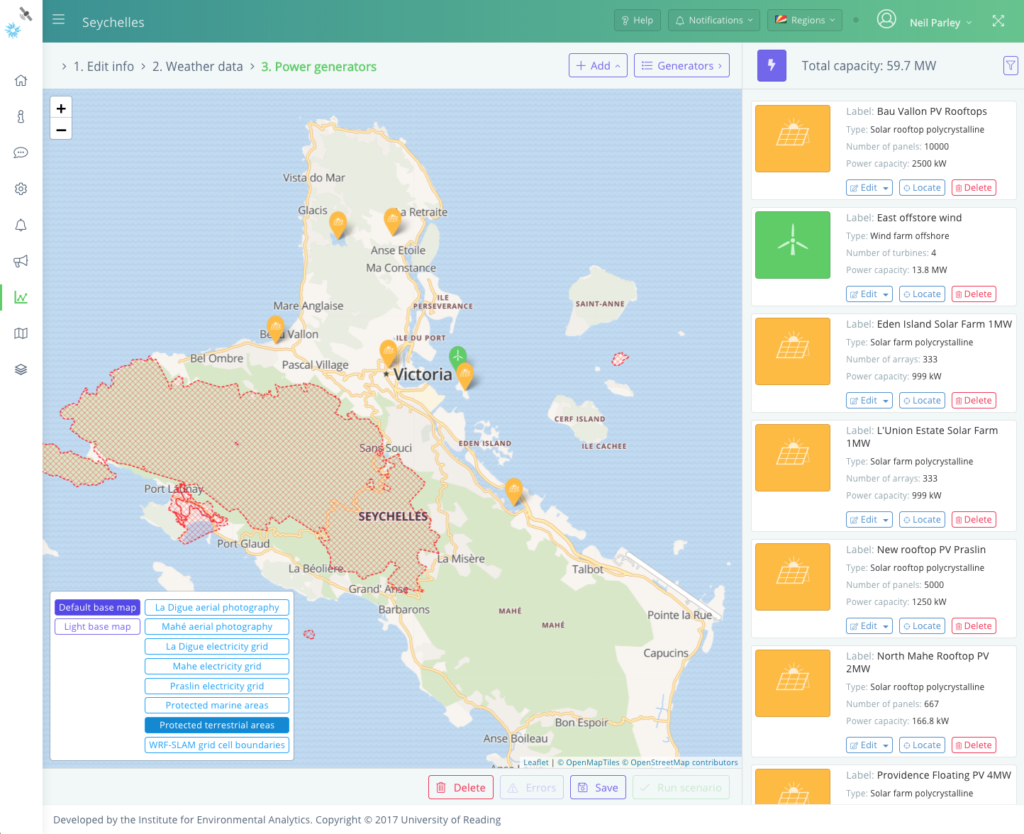 Solution benefits
Improve renewable energy planning through high-resolution estimates of power availability from renewable sources.
Increase the chance of investment in new renewable energy infrastructure through more accurate energy projections.
Optimise the requirement for spare capacity, such as spinning reserves or battery storage, to balance intermittent renewable energy production.
Optimise the location of renewable energy infrastructure by integrating GIS layers such as protected areas, proximity to the existing energy infrastructure and road networks.
Increase productivity through collaborative working using the online data repository to share relevant energy documentation with key stakeholders, such as policy makers, energy planners, utility companies and regulators.
Save time and money on lengthy natural resource field surveys through access to high- resolution computer simulated data.
Key technical features
A web-enabled, cloud-based application allows centralised application maintenance for geographically distributed users.
No requirement to install local software or maintain the platform.
Best-in-class resource data – accuracy of one square kilometre and 10-minute time variability.
Ability to model a range of renewable energy resources including solar, wind and wave devices.
The Scenario Builder application enables users to define a collection of renewable energy installations, producing a detailed energy performance analysis per generator and for the scenario as a whole.
Allows for uploading GIS layers directly onto the platform.
Easy-to-use data repository with specific user access through password protected, secure logins, allows quick access to resource assessments and relevant national energy information.
Case studies
RE-SAT has been used by the Government of Seychelles to explore the target of achieving 15% of renewable electricity generation by 2030. This was the first attempt for the government of Seychelles to model a potential scenario to reach that target. By using RE-SAT they realised that to achieve the target they needed to increase the type of generators as the target could not be achieved with just solar energy due to the lack of available area. RE-SAT is now being deployed across six other Small Island Developing States (SIDS).
Organisation overview
Founded in 2015, the Institute for Environmental Analytics (IEA) is one of the world's leading centres for big data analytics in the environmental field. The IEA specialises in turning large scale, global environmental data into easy-to-use products for clients in the energy, agriculture and infrastructure markets.
https://www.spacefordevelopment.org/wp-content/uploads/2020/08/Screenshot-2021-10-07-at-11.19.17.png
122
219
Alina Kaiser
https://www.spacefordevelopment.org/wp-content/uploads/2021/09/Caribou-Space-Logo-white-final-01-300x114.png
Alina Kaiser
2019-06-28 00:16:23
2022-06-08 09:52:12
Renewable Energy Space Analytics Tool (RE-SAT) (Institute for Environmental Analytics) (IPP funded)