More than three billion people worldwide depend upon fish for a fifth of their protein intake. But fisheries are under extreme pressure. A third of species monitored by the UN's Food and Agriculture Organization are being fished at an unsustainable level. Climate change is likely to force a global redistribution of fish stocks; countries in the tropics face a catch reduction of two fifths as fish migrate permanently away from oceans that are becoming too warm. And fish are consuming microplastics on a scale never seen before, with consequences that remain hard to predict.
The problems don't end there. Of the approximately 180 million tonnes of fish landed worldwide each year, around 26 million tonnes are caught illegally. This huge catch is largely invisible to regulators, making it difficult for governments to protect their resources and manage fish stocks sustainably. This is an especially serious problem in regions where environmental threats to fisheries have already put stocks under strain: it makes life harder for responsible fishers, and could lead to a collapse in the availability of protein from the sea. In coastal regions, where fishing is often a key industry and provides a staple source of protein, that presents a potentially deadly threat to the survival of communities and legitimate sea-faring businesses.
Emerging technologies offer new ways for governments, regulators and commercial organisations to get a grip on these problems and others. A huge step-change in computing power has driven the emergence of faster and more capable data processing, new space-based sensors, autonomous marine systems and other technologies; and as computing power grows cheaper, many of these capabilities are within reach for governments and commercial organisations on a scale and at a price that would have been unimaginable just ten years ago.
This is where the Verumar project – supported by the UK Space Agency's International Partnerships Programme (IPP) – comes in. The project uses satellite data, machine learning and other technologies to create a new level of sea vision, highlighting suspicious maritime activity across vast expanses of the country's Exclusive Economic Zone.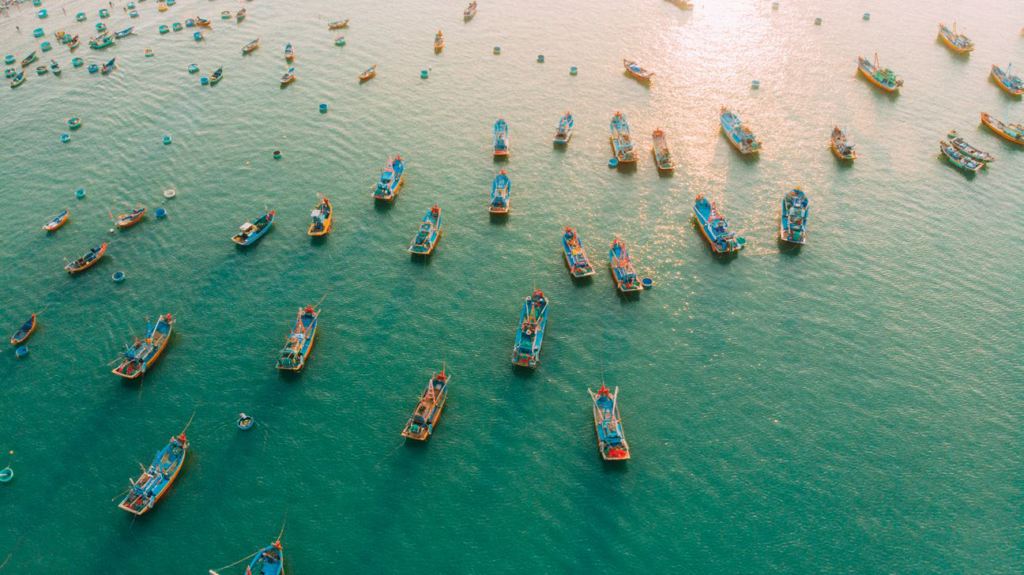 The consortium partners – Blue Economy experts NLA International, fisheries compliance specialists OceanMind, earth intelligence company MDA and consultants Poseidon are driving an approach that blends local knowledge with new datasets to ensure that surveillance and enforcement activities are always intelligence-led.
Broader horizons
As the project began to bed in with the Philippine Bureau of Fisheries and Aquatic Resources (BFAR), it became obvious that the satellite-enabled counter-illegal fishing programme was merely whetting the appetite for a broader set of innovative approaches. In order to offer a fuller understanding of broader potential, the Verumar team wrote and published a white paper, entitled Emerging Technologies and their Application in Fisheries Management.
In an industrial sector congested with jargon and conflicting commercial interests, the white paper offers an accessible and balanced overview of technologies that have enormous potential to help protect the earth's marine resources, and support the people and communities that depend upon them.
It offers a plain-English introduction to new technologies across nine major areas of development, including unmanned aircraft and vessels, data processing, sensors and internet of things (IOT), big data, cybersecurity, and satellite technology.
Developing and presenting a more detailed understanding of the full range of capabilities helps to present a balanced vista of options, and how they might all combine to add value to governments and related agencies.
"We can build a kind of mosaic picture using each of these different capabilities as part of a surveillance strategy," says Paul Gray, co-author of the White Paper. "For instance, you might take data from a range of satellites, different aerial platforms, unmanned surface vessels or in-situ sensors, and fuse and analyse these data in conjunction with other operational business data. Emerging tech, like artificial intelligence and machine learning, enables you to use many different sources of data, process and analyse it, to create actionable intelligence – and through the use of automation, increasingly, you can do that nearly in real time, so you can quickly get the results in front of a person who needs to use it."
Long-lasting change
The white paper does not just limit itself to illegal fishing, and brings different technologies to life by offering real-world examples of how they are currently being put to use. As the 22 case studies in the report demonstrate, new technology and advances in existing technology are improving: fisherfolk safety at sea; the tracking of fish stocks; and helping scientists to understand the effects of climate change on the oceans. New capabilities are also being put to work to: support counter-piracy operations; improve the efficiency of fishing and cargo ports; keep people connected, and even to face up to the challenges of the Covid-19 pandemic.
The UK Space Agency's International Partnerships Programme (IPP) has helped companies and alliances like NLA International and Verumar to bring these capabilities to life for users across the globe. Gray says the benefits can outlast any individual project: "The IPP is all about future sustainability. We bring these technologies to the end users, and develop their uses together. Then when the project comes to an end, there's a level of ability and capacity built in so that the end user can continue to use the capabilities into the long term, in a self-sustaining way."
You can download the Emerging Technologies and their Application in Fisheries Management white paper here.
The International Partnership Programme is part of, and is funded from, the Department for Business, Energy and Industrial Strategy's Global Challenges Research Fund (GCRF). GCRF is a £1.5 billion fund announced by the UK Government which supports cutting-edge research and innovation on global issues affecting developing countries.
https://www.spacefordevelopment.org/wp-content/uploads/2020/12/Fish-1.png
902
1353
Caribou Space
https://www.spacefordevelopment.org/wp-content/uploads/2021/09/Caribou-Space-Logo-white-final-01-300x114.png
Caribou Space
2020-12-11 16:23:20
2021-06-05 09:34:37
New White Paper Highlights New Technology's Potential in Sustainable Fisheries