Overview
FireSat adds considerable value to existing fire detection assets. The solution uses nanosatellites to provide targeted coverage of Africa with improved temporal and spatial resolution than offered by existing satellite remote sensing of fires. The system intends to enable a step-change in the detection of smaller fires, down to 90m² allowing earlier intervention to keep fires under control.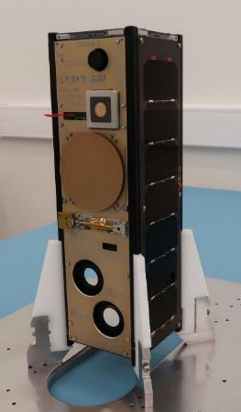 Solution benefits
Supports wild fire detection in Africa where 75% of worldwide wild fires occur.
Increases detection of fires by up to 50% compared to existing methods such as fire towers and operational satellites.
Decreases notification time of wild fires for land owners and governmental agencies.
Supplements the existing Advanced Fire Identification System (AFIS) capability.
Over a 12 months period the FireSat constellation monitors a larger area than the satellites that currently feed information into AFIS.
Cost of operating constellation is 1% of other existing space-based solutions.
Key technical features
Operates in sun-synchronous orbit, which provides a higher revisit rate for a satellite in the constellation.
Employs medium resolution imager to detect fires.
Detects fires as small as 90m².
Revisit rate of five days with 3-satellite constellation – comparable with existing solutions.
Revisit rate increased with each satellite added to constellation.
Case studies
The technology that the FireSat constellation will use is being deployed on an in-orbit demonstration mission called ZACube-2, which is supported by IPP. Deployment will occur in December 2018 with the technology live and tested by April 2019. The full Firesat constellation is expected to commence manufacture in 2019 and be operating on-orbit in 2020.
Organisation overview
Clyde Space offers a wide range of services and products including; off-the-shelf platforms, individual subsystems and ground segment solutions, all available at the click of a button; custom solutions designed to our customers' requirements ranging from tailor-made subsystems to turnkey mission solutions; and services including mission consultancy, training and operations.
https://www.spacefordevelopment.org/wp-content/uploads/2019/06/Screenshot-2021-10-08-at-08.36.05.png
104
192
David Taverner, Caribou Space
https://www.spacefordevelopment.org/wp-content/uploads/2021/09/Caribou-Space-Logo-white-final-01-300x114.png
David Taverner, Caribou Space
2019-06-07 11:44:54
2022-06-08 11:23:54
FireSat (Clyde Space) (IPP funded)