Overview
Land Cover plus Crops is a solution developed by Remote Sensing Applications Consultants (RSAC) to provide detailed annually updated crop maps of Great Britain. It provides parcel-level information derived from Earth observation (EO) data for every field in the country. It is now being applied in developing countries to offer improved understanding of agricultural land use and farming practices and allow prediction of production and prescription of appropriate interventions to ensure food security.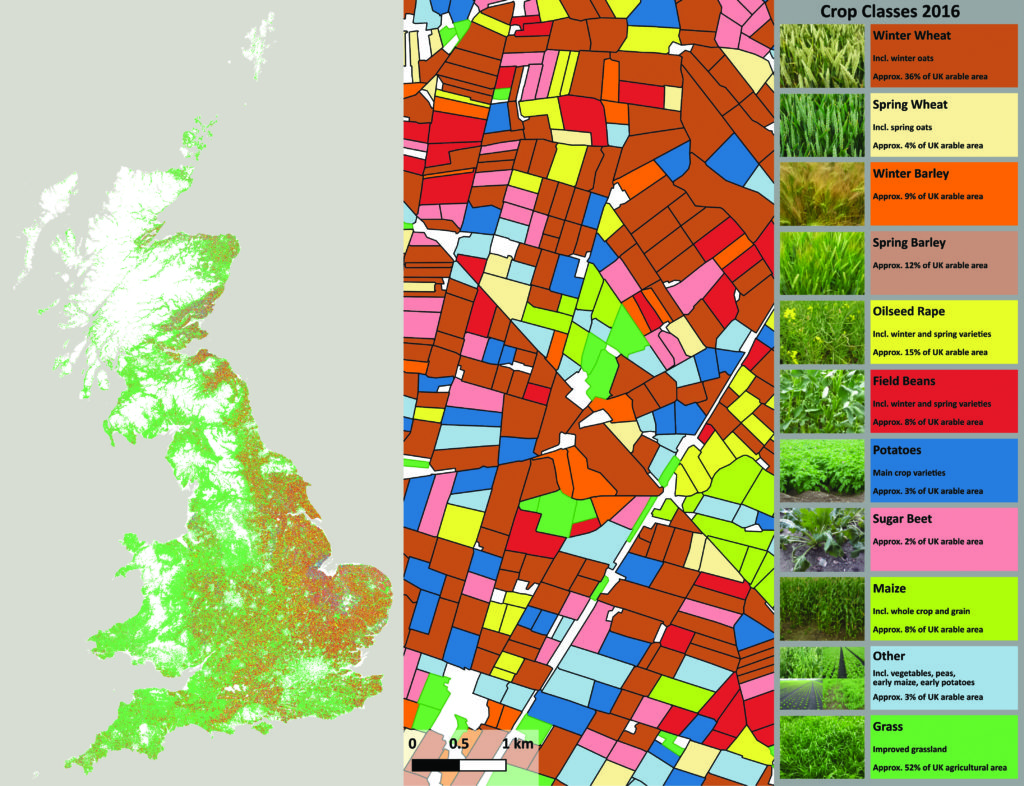 Solution benefits
Detailed parcel-level crop map that provides information for every individual field.
Operationally produced on an annual basis for Great Britain since 2015 (~2 million parcels) in the framework of the national land cover map produced by the UKRI Centre for Ecology & Hydrology (CEH).
It is also transferable to the developing world to offer improved understanding of agricultural land use and farming practices.
Temporal series of products allows analysis of crop rotations and cropping trends (e.g. in Great Britain, four years' data available to date).
Combined with RSAC's radar-derived measures of crop growth (separate product), allows prediction of production, and prescription of appropriate agricultural interventions to ensure food security and adaptation to climate change.
Key technical features
Based on time series of free Sentinel-1 radar and Sentinel-2 optical satellite data.
Maps the main arable crops such as winter and spring wheat, winter and spring barley, oilseed rape, field beans, potatoes, sugar beet and maize, plus improved grassland (but not vegetables).
All cropping units larger than two hectares mapped.
Multiple crops within the same field separately mapped.
Classification accuracies of 90-97% for cereals and oilseed rape.
Finalised maps available soon after harvest (some crop classes available earlier).
Rapid massive data processing enabled by cloud processing facilities.
Delivered as vector data (parcel outline polygons attributed with crop information) for ease of use in geographic information systems (GIS).
Case studies
Land Cover plus Crops is being implemented in Mongolia to provide crop identification and crop productivity information to support a number of different government regulatory, policy, planning and protection functions. Maps and statistics on the location, extent, type, and variability of crops will help the Mongolian Ministries of Agriculture and Environment to facilitate adaptation to climate change and maintain levels of food security nationally.
Land Cover plus Crops was originally developed in conjunction with Anglian Water. Water companies require detailed agricultural data for improved catchment modelling in the context of water quality. Land Cover plus Crops products are used to allow more accurate modelling of pesticide sources and transport pathways within catchments. Land Cover plus Crops enhances the current Drinking Water Safety Planning approach for diffuse agricultural sources of contamination in terms of hazard identification, risk assessment and management.
Organisation overview
RSAC is an SME with 30 years of experience providing specialist services to developers and users of Earth Observation. The company has considerable expertise in the use of satellite optical and radar data for land applications worldwide, particularly in the field of agriculture. The company is involved in a range of research, development and operational activities, playing a leading role in agricultural applications of remote sensing in the UK and heading up several international development projects.
https://www.spacefordevelopment.org/wp-content/uploads/2021/09/Caribou-Space-Logo-white-final-01-300x114.png
0
0
Alina Kaiser
https://www.spacefordevelopment.org/wp-content/uploads/2021/09/Caribou-Space-Logo-white-final-01-300x114.png
Alina Kaiser
2019-06-27 20:33:03
2022-06-08 10:39:38
Land Cover® plus Crops (Remote Sensing Applications Consultants)