Overview
The WeatherSafe platform provides field specific advice for coffee farmers. This is generated from satellite Earth observation (EO) data and bespoke weather forecasts, offering early warnings for pest and disease, supporting agronomist and farmer decisions making, helping farmers make faster, better choices which directly impact both the quality and quantity of coffee produced.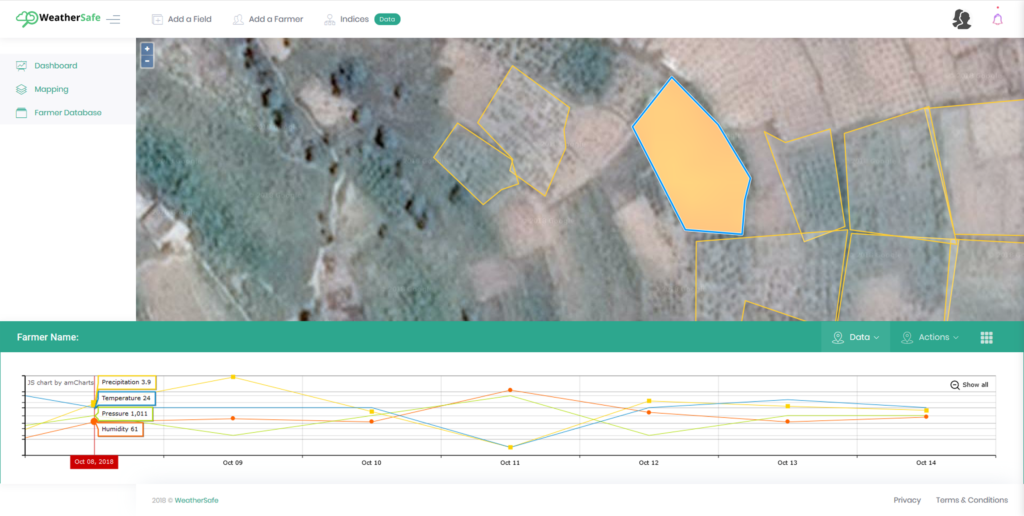 Solution benefits
Field specific seven-day weather forecasts to give coffee farmers time to prepare for key weather events, such as the start of the rainy season.
Field specific automated pest and disease warnings enabling farmers to take both preventative measures and more accurate reactive measures when dealing with coffee pests and diseases.
Field specific health monitoring enabling coffee agronomists to view a list of their designated farmers and fields prioritised in order of those requiring the most attention.
Alert system enabling agronomists and farmers to communicate with each other.
Key technical features
WeatherSafe is a standalone cloud-based solution with a web platform and accompanying mobile device application.
Employs commercial, paid for, EO data.
High precision optical images of targeted fields with a two metre multispectral resolution, which corresponds to the crown of a coffee tree.
Weekly imagery across each field utilising red/ green/blue/near-infrared spectral bands.
The cloud-based service means access to the product is possible via smart phone or laptop with an internet connection, or via SMS.
Case studies
Kinini Coffee, who are based in Rulindo, Rwanda, use the WeatherSafe platform to help their agronomists give better advice to their coffee farmers. The WeatherSafe platform has changed farming practice from traditional to a tech-based precision agriculture, for example, by farmers knowing when to use pesticides and having the ability to verify if fertiliser is being applied properly.
Organisation overview
At WeatherSafe, we develop solutions to one of the greatest challenges facing humankind – leadership in data science, the next breakthrough area of agriculture. Together, we will provide new time critical insights and help farmers and government with the decisions they make every season, generating new growth opportunities.
https://www.spacefordevelopment.org/wp-content/uploads/2021/09/Caribou-Space-Logo-white-final-01-300x114.png
0
0
David Taverner, Caribou Space
https://www.spacefordevelopment.org/wp-content/uploads/2021/09/Caribou-Space-Logo-white-final-01-300x114.png
David Taverner, Caribou Space
2019-06-12 13:11:59
2022-06-08 10:51:16
WeatherSafe Platform (WeatherSafe)