Overview
The Forest Disturbance Early Warning System (FDEWS) provides regularly updated information about likely forest disturbances, even when skies are cloudy. Maps show disturbances that have occurred since baseline, with the date of first detection. These products readily improve knowledge of forest change and enable proactive intervention by the relevant authorities.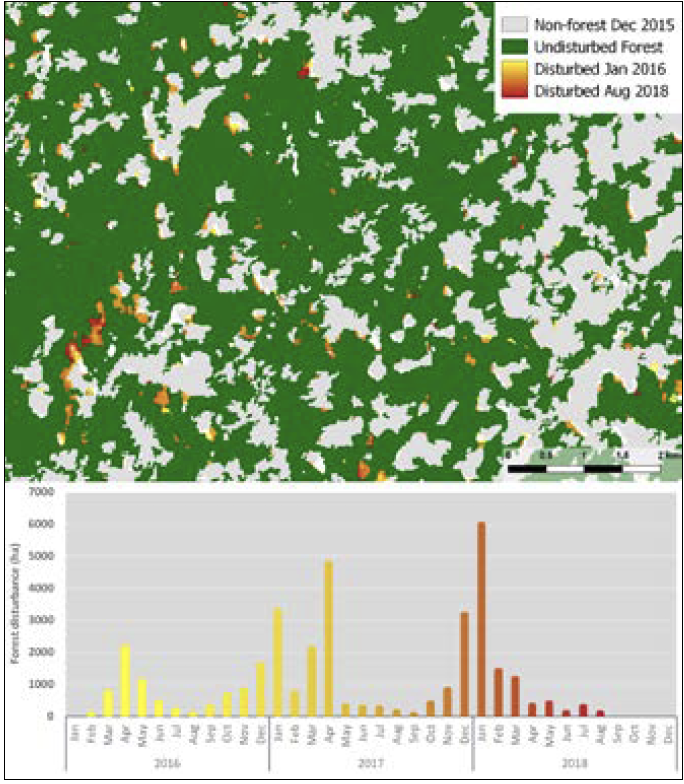 Solution benefits
Enables detection of likely forest disturbances so that investigations can be conducted on the ground and interventions applied where necessary to prevent further damage to the remaining forest.
Synoptic view allows limited forest patrol resources to be efficiently focussed in worst- affected areas for quick location of potentially illegal incursions.
Effective in tropical regions where cloud cover precludes the use of optical Earth observation (EO) data.
Potential mechanism for continual update of forest extent within a national land use inventory.
Can provide information complementary to the REDD+ wall-to-wall forest mapping process, on the detailed changes occurring in specific areas and during the periods between Monitoring, Reporting & Verification (MRV) exercises.
Can also shine a spotlight on the effect of localised emissions reduction actions and refine quantification of advances towards national target reduced rates of deforestation.
Outputs can contribute to deforestation risk analysis, enabling regulators to better anticipate deforestation before it occurs.
Relatively low operating costs compared to other forest monitoring programmes.
Key technical features
Use of satellite radar data overcomes mapping and monitoring challenges in tropical regions associated with cloud cover.
Standalone solution, though outputs can be usefully integrated with other layers in a geographic information system (GIS).
Requires an initial forest map defining an area of presumed undisturbed forest at the beginning of the monitoring period to constrain the monitored area.
The system detects forest disturbances based on their manifestations in dense time series of free Sentinel-1 satellite radar imagery.
Detected 'disturbances' include deforestation, forest degradation and other changes, including those associated with the process of cocoa cultivation.
Most system processing implemented on a cloud-based geospatial processing platform.
Updated maps produced on average every 12 days at 10 metre resolution.
Low false-alarm rate of 6%.
Outputs show an overview of all disturbances with the date of first detection or the locations of the most recent disturbances.
Outputs delivered as raster layers for incorporation into a GIS or as list of coordinate pairs (locations of most recent disturbances) for input to a GPS device for navigation to points of interest on the ground.
Case studies
FDEWS was developed by Remote Sensing Applications Consultants (RSAC) to provide inputs for the IMAGE (Inventaire-Modelisation-Alerte- Gestion-Environmental) system built by Vivid Economics Ltd for natural capital valuation in Ivory Coast, supported by IPP. It is in operational use for the Emissions Reduction Programme (ERP) region surrounding the Tai Forest National Park in the southwest of the country and will soon be extended nationwide. The systems will drive improved monitoring and enforcement efforts that prevent forest loss and promote afforestation.
Organisation overview
RSAC is an SME with 30 years of experience providing specialist services to developers and users of Earth Observation. The company has considerable expertise in the use of satellite optical and radar data for land applications worldwide, particularly in the field of agriculture.
The company is involved in a range of research, development and operational activities, playing a leading role in agricultural applications of remote sensing in the UK and heading up several international development projects.
https://www.spacefordevelopment.org/wp-content/uploads/2021/09/Caribou-Space-Logo-white-final-01-300x114.png
0
0
Alina Kaiser
https://www.spacefordevelopment.org/wp-content/uploads/2021/09/Caribou-Space-Logo-white-final-01-300x114.png
Alina Kaiser
2019-06-27 20:53:26
2022-06-08 10:33:34
Forest Disturbance Early Warning System (FDEWS) (Remote Sensing Applications Consultants)